Page 11 of 13
CHAPTER 10 describes the role of 24. Infanterie-Division at Messines and in the Third Battle of Ypres, focusing on Kgl. Sächs. 9. Infanterie-Regiment Nr.133. It also includes the whole period of offensive preparation and raiding from January 1917 onwards.
The photographic selection includes some amazing and very bleak images from the fighting in the foul mire south of the Menin Road that autumn, where the Saxons repelled the assault of British 7th Division on 26th October. The ragged trenches and the battalion and regimental HQ bunkers are all depicted.
The chapter includes two extremely rare pictures of the Sturmabteilung der 24. Infanterie-Division and brief mention of its documented role in trench raids. We are proud to announce our discovery that the 'red S-shaped snake' sleeve badge (much depicted in articles and books on German storm troops) belonged specifically to this formation!
Like Chapter 8, this chapter also takes a look at the view from the other side, providing corresponding British accounts both of several trench raids and of the major attack of 26th October 1917. The copious British documentation was compared closely to the available Saxon sources, with some interesting results.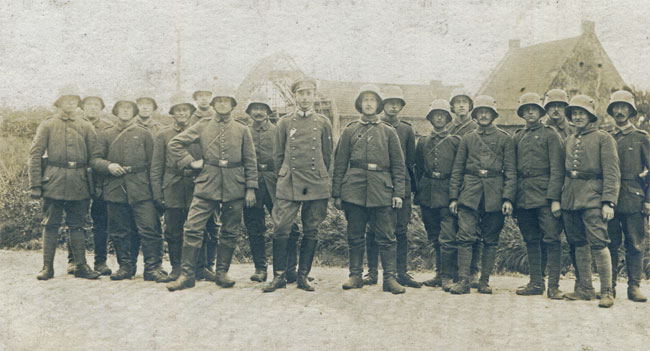 Above: This photo shows Leutnant Konrad Mann, adjutant of I. Bataillon / Kgl. Sächs. 14. Infanterie-Regiment Nr.179, together with the battalion's Meldeläufer (runners) in September 1917. This battalion was nearly annihilated in the defence of Gheluvelt on 26th October.
Konrad Mann was born at Staßfurt in Thüringen on 19th September 1895. Although an 'active' (career) officer, he only received his commission in wartime. He was awarded the Ritterkreuz des Militär-St. Heinrichs-Ordens for his leadership of his regiment's 12. Kompagnie in desperate hand grenade fighting on the Somme in August 1916. He was killed in action (initially reported missing) at Montbrehain on 10th October 1918, a disastrous battle described from the perspective of my great-grandfather's Saxon field artillery regiment in a Facebook article: My Great-Grandfather's War: Part 6 (the final battles and post-war)